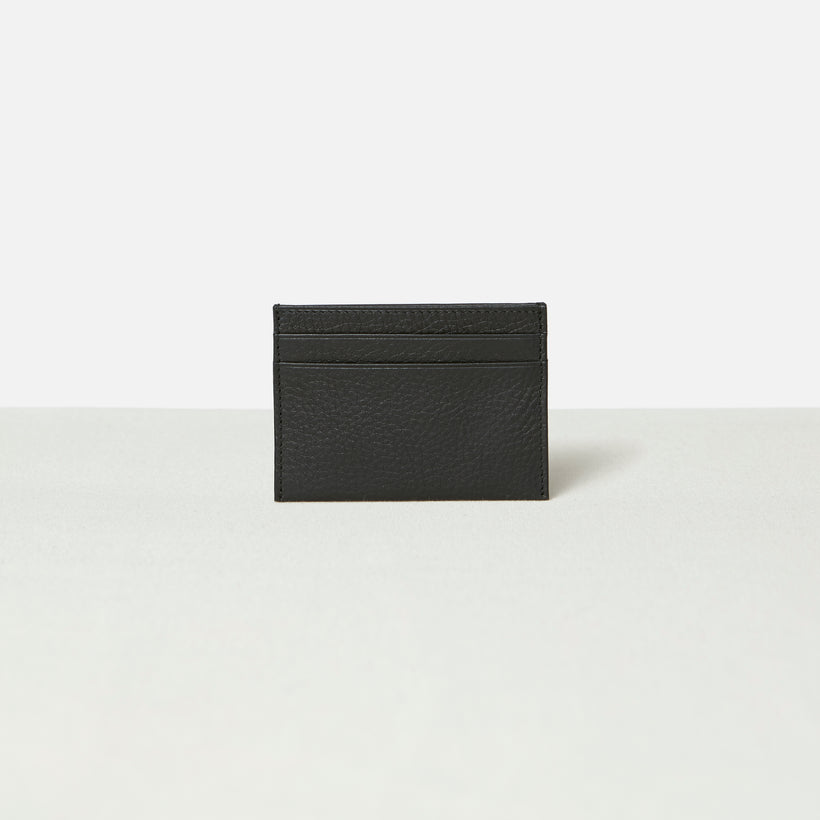 CARDHOLDER
Style number - SG009AA
Year of manufacture - 2018
Factory - Petek Saraciye
Head craftsman - Apo Raman
Made in - Istanbul, Turkey
MATERIALS BREAKDOWN
Leather -
Naturally tanned cow leather, certified organic, tested and certified free of harmful substances.
Producer: Tarnsjo Garveri
Article: Bovine leather
Made in Sweden
Textile -
Cradle to Cradle gold certified 65% Infinito polyester and 35% Lyocell.
Producer: Lauffenmuehle
Article: Cycle 245
Made in Germany
Stitching thread -
Polyester thread made from recycled plastic bottles.
Producer: Guetermann
Article: Mara rPet
Made in Germany
Adhesive -
Non-hazardous water based contact adhesive.
Producer: Renia
Article: Aquilim 315
Made in Germany
CARE GUIDE
Character of the leather.

Most importantly, your item is made from metal free, naturally tanned organic leather. It is 100% certified free of harmful substances, which means that there is no chemical based protective layers applied to its surface. Unlike most commercial leathers, where the surface is covered with a coating of polymers and stamped to look uniform, you will find that the grain of our leather shows natural variations in texture and tone. This is how you can recognise it for what it is.
Because our tannery, Tarnsjo Garveri in Sweden, does not use any harmful chemicals to 'fix' the dyes either, the colour may take a period of a week or two to wear in, during which the natural pigment in the leather may transfer some colour onto lighter items. Please be mindful of this.
Patina.

Vegetable tanned leather reacts to the environment. As you use your item, it will develop marks that are unique to you and the conditions it's used in. This is a characteristic that only naturally tanned leather can achieve. Just like denim, the leather will soon soften and improve as time goes by.
Do not worry about scratches and marks from daily wear, these markings will naturally mellow and fade into a rich texture over time. Use it with care and you will have an item that develops the most beautiful and unique character, that cannot be recreated by any other means.
Care.

Careless use and exposure to harsh conditions will affect your item in an undesirable way. Excessive direct sunlight, particularly for the 'natural' and other light colourways, will have a darkening effect on the colour. Avoid getting your item wet. If it does get wet, gently dab the leather dry with a clean soft cloth and leave it to dry at room temperature. Do not keep it next to a radiator or any other direct heat source. This can dry out the natural oils present in the leather and make it brittle over time.
To make it last, condition your item once a year. We are with you for the long run and offer a complimentary 'spa' service for your item once a year. Alternatively you can also clean and condition it yourself - get in touch and we can arrange to send you some natural conditioning and cleaning products.